UP NEXT
Grief-stricken Barcelona paid homage Sunday to victims of two terror assaults at a mass in the city's Sagrada Familia church, as investigators turned their focus to a missing Moroccan imam believed to have radicalised the young attackers.
King Felipe, Prime Minister Mariano Rajoy and Catalonia's president Carles Puigdemont led the ceremony mourning the 14 people killed by jihadists who used vehicles to mow down pedestrians in Barcelona's Las Ramblas boulevard on Thursday and in the nearby seaside resort of Cambrils early Friday.
"These have been days of tears, many tears," said auxiliary bishop Sebastia Taltavull.
Outside the church, snipers were posted on rooftops surrounding the landmark building by Gaudi, while heavily armed police stood guard as hundreds of people gathered under grey skies.
Catalonia resident Teresa Rodriguez said she had turned up to pray for the victims.
"What happened in Las Ramblas is really hard for us, we go for walks there often, it could have happened to me, my children or anyone. And here we are. It's huge, huge," she said as she fought back tears.
Later Sunday, nearly 100,000 people were expected at Barcelona's Camp Nou stadium for their team's first game of the season, to be marked by a minute of silence for the victims.
Interior Minister Juan Ignacio Zoido said Saturday the cell behind the carnage that also injured 120 had been "dismantled," although local authorities took a more cautious tone.
Police were still hunting 22-year-old Younes Abouyaaqoub, who media reports say was the driver of a van that smashed into crowds on the popular Las Ramblas boulevard on Thursday, killing 13 people.
Hours later, there was a similar assault in the seaside town of Cambrils that left one woman dead. Police shot and killed the five attackers, some of whom were wearing fake explosive belts.
An extensive security operation including roadblocks was mounted overnight across Catalonia.
- Imam's role ? -
The Islamic State (IS) group claimed responsibility for the attacks, believed to be its first in Spain.
The terror cell in Spain reportedly comprised at least 12 young men, some of them teenagers.
Investigators are seeking to unravel the role of an imam, Abdelbaki Es Satty, who is believed to have radicalised many of the youths from a small town called Ripoll, at the foot of the Pyrenees.
Several of the suspects -- including Abouyaaqoub -- grew up or lived in the town of about 10,000 inhabitants.
On Saturday, police raided the imam's apartment in Ripoll, his flatmate, who would only identify himself as Nourddem, told AFP.
Spanish media quoting police sources, said the officers were looking for DNA traces in the apartment to compare with body parts found in an explosion in a home in Alcanar, about 200 kilometres (120 miles) south of Barcelona, where the alleged jihadists were believed to have been building bombs.
Police said they believed the suspects were planning a much larger attack.
"They were preparing one or several attacks in Barcelona, and an explosion in Alcanar stopped this as they no longer had the material they needed to commit attacks of an even bigger scope," said Josep Lluis Trapero of Catalonia's police.
Security forces were seen removing dozens of gas canisters from the house in Alcanar on Friday.
The imam was also known to police, according to Spanish media, which reported that he had spent time in prison.
El Pais and El Mundo quoting anti-terrorist forces said the imam had met prisoners linked to the March 2004 Al-Qaeda-inspired bombing attack on commuter trains in Madrid that killed 191 people, the worst terror attack in Europe.
- 'Brainwashed' -
A clearer picture is emerging of the suspected perpetrators.
Most of them are children of Moroccan immigrants, including Ripoll-born Moussa Oukabir, 17, one of five suspects shot dead in Cambrils. His older brother Driss is among the four arrested.
In Morocco, Moussa and Driss's father Said broke down, surrounded by relatives.
"I hope they will say he's innocent... I don't want to lose my two sons," he told AFP.
A cousin said Moussa "loved playing football, having a good time, chatting up girls".
He travelled to Morocco almost every year for the summer holidays and was expected back last Tuesday.
"The last few months, he started to become interested in religion. He used to go to a mosque in Ripoll. Maybe that's where he was brainwashed," the cousin said.
- Security ramped up -
Victims of the attack came from three dozen countries including Algeria, Australia, China, France, Ireland, Peru and Venezuela, reflecting Barcelona's status as Spain's most popular tourist destination.
Fifty-four people are still in hospital, including 12 in critical condition, Catalan emergency services said.
With the peak summer tourism season still in full swing, the Spanish government ordered security ramped up in crowded places, although it kept the terror threat level at four out of a maximum five.
Tourism has been vital to Spain's economic recovery, and because it has until now been spared the wave of extremist attacks that hit Europe, it has recorded a surge as visitors shunned more restive destinations such as Tunisia and Egypt.
© Greyhound Modern Greyhound buses offer free WiFi, a feature the company hopes will attract younger travelers. If I've said it once, I've said it a thousand times: Avoid doing anything you would not want anyone in the world to know on public Wi-Fi. You may think you're safe in that busy café or big-name hotel, but public Wi-Fi is a major liability.
It doesn't matter how safe the connection seems to be; your computer is vulnerable to hackers because you have no idea who is really in charge of that router or who has access to it and all the data that passes through it. Knowledge is power.

There are lots of ways to protect yourself, of course. Your best defense is a virtual private network (VPN), which can prevent nosy strangers from snooping on your browser. You can also employ the usual firewalls and antivirus software to defend your computer from hackers and malware.
Even the best security systems have their weaknesses, and you have likely never heard of this one: File sharing on a public network can expose your computer to data thieves.
This is a scary problem because you may not even realize that you're sharing files. But if your computer is on the wrong setting, you may attract any number of cyber-criminals. So how do you make sure your computer isn't leaking information by accident?
File Sharing
File sharing is very handy, especially for groups of people. Whether you're using iCloud, Dropbox, or Google Drive, file sharing allows a large team to work on a single project at once, or families to browse digital photo albums, or data specialists to organize large batches of information. This is very convenient, as long as you're on your own secure network.
But if you're sharing files on public Wi-Fi, your folders may be accessible to anyone connected to the same public network. In other words, file sharing automatically exposes your computer and everything you intend to share. Your vacation photos may end up in the wrong hands, and so could your contracts, spreadsheets, and tax information.
In fact, you don't have to be a hacker to take advantage of shared folders. Anyone who looks around their network folders can instantly run a search and find unguarded files.
It works the other way around too.
An attacker can also set up a shared folder with malicious files. You may stumble into the mysterious folder and think, "Wait a minute, where did this come from?" Then you click on it, releasing the malware onto the desktop. There are other ways you can get into trouble.
Want to ensure your privacy? Make sure to turn off file sharing before you connect to public WiFi. Here's how to do it:
Turn off file sharing on Windows
1. Search for "Control Panel" then click on the best match to open it.
2. Under "Network and Internet," click on "View network status and tasks."
3. On the next page, click "Change advanced sharing settings."
4. Under "File and printer sharing," tick off "Turn off file and printer sharing."
5. To prevent network snoopers from seeing your computer, tick off "Turn off network discovery" too.
6. Save changes.
Turn off file sharing on a Mac:
1. Open your Mac's System Preferences (the gear icon on your dock).
2. Click on the "Sharing" icon.
3. On the next "Sharing Page," uncheck File Sharing.
4. I also recommend that you uncheck all the other sharing services here when connecting to public Wi-Fi.
5. Close the window and you're set.
Turn file sharing back on
Okay, you're done your business, and now you can log off of public Wi-Fi. You've taken all the necessary precautions, and there's a good chance none of your information was compromised.
Just remember to switch your file sharing back on when you get back to your home or office. None of these services will work unless you restore your regular settings. When you're back on your secure server, you can continue sharing to your heart's content.
How else can you protect yourself from digital intrusion? Be sure to listen or download my podcasts, or click here to find it on your local radio station. You can listen to the Kim Komando Show on your phone, tablet or computer. From buying advice to digital life issues, click here for my free podcasts.
© kote baeza/CC BY 2.0 (image cropped) Haptics are already at your fingertips — they're the cutting edge of virtual reality and robotics technology.
How do you digitize touch?
You may have played video games where the controller shakes and buzzes, heightening the effect of onscreen crashes. In fact, you can find that digital touch sensation — known as haptic technology — in devices from your smartwatch to your cellphone.
But as engineer Katherine Kuchenbecker explains, the haptic possibilities don't end with our entertainment and communication tools — haptics are now being used to "smarten" everything from virtual reality to robotics technology.
Kuchenbecker, a director at the Max Planck Institute for Intelligent Systems, has even worked on haptics that can suggest textures as detailed as cotton or wood, using a technique she calls haptography — recording "how surfaces feel to touch with the same accuracy that we can capture them with a camera."
"Imagine you take a tool and you drag it back and forth over a piece of leather, or say, a rough piece of stone," she says. "You can feel the tip of the tool bounce across the little bumps on the surface or be dragged. It might be more difficult to move across the leather. And also you can feel how hard or soft the surface is."
"And so we created a little tool that we call a haptic camera, a touch-based camera that can record all those sensations. And then we do a bunch of math and make a model so that when you go touch a virtual version of that piece of leather or that stone, we can create sensations that make it feel almost as though you're touching the real thing."
Using the technology, users can drag a stylus across a tablet screen showing pictures of, say, the stone, or a scrap of leather. A little motor in the stylus vibrates according to the user's movements and force, Kuchenbecker explains. "And then as you drag the stylus across the picture, you would feel like the tip was going over the stone or the leather, even though it's really just going over glass."
In a further step, her research has applied haptics to virtual reality, creating a device that can be used to feel virtual objects in 3-D space. She calls it haptography 2.0, and says that adding touch is crucial to making believable virtual environments.
"Life is a lot more than just what you see and what you hear," she says. "You can't do anything in the real world without reaching out and touching something." And in fields like surgery, touch can have life-altering consequences. Not surprisingly, Kuchenbecker says, haptics are at the cutting edge of medical tools and training technology.
"Certainly, one big opportunity is to improve the kind of video games that doctors train on," Kuchenbecker says. "There's a big movement in medicine right now to help surgeons or dentists or other medical practitioners practice on a realistic computer simulator before they try out, say, suturing or drilling a cavity on a real human."
Another promising path for haptics, she says, is in robotic surgery. Robots like Intuitive Surgical's FDA-approved da Vinci system allow doctors to perform minimally invasive surgeries deep inside the human body, but have "absolutely no touch feedback," Kuchenbecker says. "So, the doctor can't feel anything of what they're doing."
Haptography can change that by recording sensations during surgery, she explains. "And then instead of modeling [the sensations], you can just transmit them immediately, sort of like a microphone and a speaker where we measure what the tools are feeling and play it for the surgeon's hands right away," she adds.
Other robots can also benefit from touch technology. Kuchenbecker says haptics can help autonomous robots put objects in a dishwasher or safely hand something to a human. "When you try to program robots to do tasks like that, you really start to see how important ... haptic signals are for coordinating these movements in the real world," she says.
Haptic technology can connect us to each other, too. "People who've had an amputated upper limb, like, let's say they've lost their hand, it's not just that they want to be able to pick up their coffee. They would really love to be able to hold hands with their loved ones," Kuchenbecker says. (Here too, the technology is making inroads.) "And so the emotional side of touch and physical contact between people is really important."
It's so important, Kuchenbecker says, that her lab is working to create a hugging robot — which is, just as it sounds like, "a robot that delivers really good hugs." "Give me a few more years and I'll have a PhD student, and maybe we'll see if it might have some true benefits," she says.
"Could it really uplift your mood or help figure out how you're feeling or help people stay in touch long distance? That's some of the things we're thinking about."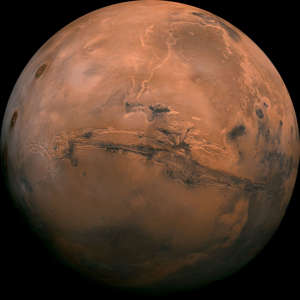 © Associated Press This image provided by NASA shows the plant Mars.
Nasa is planning to make oxygen from the atmosphere on Mars when its next robot arrives on the mysterious red planet in 2020.
Scientists will send microbial life - possibly algae or bacteria - on the 2020 Rover mission in a bid to create air fit for human consumption.
They aim to feed the microorganisms in Martian soil in the hope that they will pump out oxygen as a byproduct.
It could then be made available for breathing or used as rocket fuel to power return flights to Earth.
If the experiment is successful it will mark a major step towards making Mars habitable for human colonies in the future.
Mars's atmosphere contains just 0.13% oxygen, compared with 21% on Earth.
Nasa Acting Chief Administrator Robert Lightfoot told Futurism: "Mars 2020, has an experiment where we are going to try and actually generate oxygen out of the atmosphere on Mars, clearly that's for human capability down the road."
The US government department also has plans to build a magnetic shield around Mars and to install a nuclear reactor on the planet.
They hope to launch a lunar space station near the Moon that could act as a starting point for missions to the rest of the solar system.
Mr Lightfoot said it was a logical next step after the success of the International Space Station, adding: "When you look at our plans today [for getting to Mars], we use the International Space Station as much as we can."
Canadian-American businessman Elon Musk has announced plans to colonise Mars and said an optimistic cost would be around $10billion per person.
The provincial health office in Abra has placed three towns under heightened monitoring due to an increase in the number of dengue cases.
A 24 Oras report said that three towns with a sudden increase in dengue cases were La Paz, Danglas ang Lagayan.
The provincial health office said that there are now a total of 11 dengue patients confined at the Abra Provincial Hospital.
It added that since January of this year, a total of 133 cases of dengue have been recorded in the province.
A total of 266 cases of dengue were recorded in the province in 2016. —ALG, GMA News

By By Canice Leung, Reuters
of Reuters
|
A large crowd of people march towards the Boston Commons to protest the Boston Free Speech Rally in Boston, MA
A large crowd of people march towards the Boston Commons to protest the Boston Free Speech Rally in Boston, August 19, 2017.
© REUTERS/Stephanie Keith
[unable to retrieve full-text content]
'The Greg Gutfeld Show' panel reacts
[unable to retrieve full-text content]
Inside the evolution of North Korea's secretive missile program.
Share this:
Ni LITO T. MAÑAGO
NATAPOS na ang Cinemalaya 2017 at naipalabas na rin ang pinagbibidahang indie film ni Cong. Alfred Vargas na Ang Guro Kong 'Di Marunong Magbasa ng Alternative Vision.

Balik-Kongreso na ulit si Cong. Alfred pagkatapos ng gala premiere ng pelikula sa Tanghalang Nicanor Abelardo ng Cultural Center of the Philippines (CCP) a few weeks ago.
"Priority naman natin lagi, eh, 'yung public service. Ito talaga 'yung trabaho natin. Kumbaga, kung may extra time ako saka lang ako tatanggap ng trabaho sa showbiz," sambit ng Quezon City 5th District representative.
Masaya si Cong. Alfred na naging flatform ang Cinemalaya para maiparating niya ang kakulangan ng gobyerno sa pagtugon sa edukasyon sa bansa.
Hindi rin daw nagtatapos sa Cinemalaya ang adbokasiya niya sa edukasyon para sa nasasakupang distrito.
"Tuloy ang trabaho, tuloy pa rin ang serbisyo kahit anong mangyari. Priority ko talaga 'to and natutuwa lang ako dahil naging venue 'yung Cinemalaya para makapag-advocate ng education. Para sa akin, du'n pa lang quota na. Kumbaga, mabigyan ka ng chance na makapag-acting and at the same time makapag-advocate, sa akin, jackpot na ako roon. Happy na rin ako," salaysay ng Dekada Awardee ng Golden Screen Awards.
Kung may pagkakataon, sisikapin pa rin ng lawmaker na tumanggap ng TV project lalo na't na-miss din niyang umarte sa harap ng kamera. He was last seen in Encantadia ng GMA Network.
"Sobra! Kahit busy sa work sa Congress, puwede naman. Nami-miss ko 'yung mga tao sa set, 'yung mga katrabaho," lahat ng actor-turned-politician.
"Meron namang offer 'yung GMA-7 at kapag natapos na 'yung budget season baka gumawa ako ng isang telenovela. Sa Encantadia, nag-guest lang din ako roon. Pero itong bagong offer, kasama ako from start to finish."
Balak pa rin niyang mag-produce ng pelikula. Inspirado siya sa kinita ng Kita Kita nina Alessandra de Rossi at Empoy Marquez.
"Grabe, 'no? Nakaka-inspire! Kaya gusto kong i-congratulate sina Alessandra at Empoy. Ang galing nila," wika ng kongresista.
"Sabi ko naman sa sarili ko, andiyan 'yung mga negosyo ko 'tapos nakakapag-public service naman ako. Sabi ko, gagawa na lang ako ng project na gusto ko. Hindi na katulad nu'ng dati na showbiz talaga 'yung main job ko na kahit na anong project tatanggapin mo kasi 'yun ang livelihood mo. Ngayon andito na ako sa point in my career na I'll only accept project na I really want. Not for the money but for the passion," wika pa ng actor/politician.
Share this:
Related
Source: Balita
The Light Rail Transit Authority announced on Sunday that operations of the LRT Line 2 will be limited from Santolan to Cubao Stations and vice versa starting 4:30 a.m.
In an advisory, the LRTA said that the downgraded operations will give way to the ongoing repair of the power cables, signaling and telecommunications fiber optics system that were damaged by Saturday night's fire.
It said that a fire broke out at 9:57 p.m. near the Pureza station due to a burnt junction box of the overhead catenary wire that supply 1,500 volts DC to the train.
"The exposed cables were possibly affected by the downpour and lightning that cascaded to the junction box," the advisory added.
Maintenance Team is working double time to restore full operations the soonest possible time, it said. —LBG, GMA News
When Volkswagen unveiled the ID Buzz, the assumption was that it would meet the same fate as many concept cars: it'd look good at an auto show, and promptly disappear when cold economic realities set in. Thankfully, the Buzz won't suffer that fate. VW has announced that it will put the Microbus-inspired EV into production, with a launch expected by 2022. We wouldn't expect everything about the Buzz to remain intact (those large wheels are likely the first things to go), but the '60s-inspired styling, semi-autonomous driving and all-wheel drive option will carry over. VW is even teasing a cargo variant, so couriers may have a clean (and slightly kitschy) alternative to the usual vans.
The EV is primarily targeted at China, Europe and North America.
The melding of a nostalgic vibe with electric transportation is the primary allure, of course, but VW notes that going electric should make it very practical. As it doesn't need a giant gas engine, there's a tremendous amount of space. You'd get as much passenger room as a big SUV in the size of a compact commercial van, VW says. It's also practical for the automaker. If prior leaks are accurate, VW is producing the Buzz precisely because it's based on the same platform as other ID cars, making it far less expensive to develop than the previous Microbus concept (which had a one-off platform).
This won't be the first ID model to hit the streets. The compact car is reportedly arriving around 2020, while the US would likely get the Crozz in a similar time frame. Still, the 2022 target is welcome when there was talk of the EV not arriving until closer to 2025, or at all. It also shows just how determined VW is to embrace electric transportation and put its diesel scandals in the past -- it's willing to take a chance on a design that could easily have been consigned to the history books.
For the romantics out there, you should know one thing, preparing for a wedding and a marriage are two entirely different things.
Marriage will change your financial situation and it will have an enormous effect on all aspects of your life as a couple. Everything from personal financial goals to credit card debts will bring new challenges. The wedding is just a one-day thing and a one-off cost. You would need to have a plan for the days, months, and years after you say "I do." What's after that lavish wedding ceremony? Do you have your housing figured out? How about the education plans of your future children? Health insurance? Retirement?
The road to happily ever after requires a considerable amount of financial planning, and preparing for your wedding is just the start of this life long journey. To those pondering these thoughts, here are the things that you should be preparing for before tying the knot!
Wedding expenses
Walking down the aisle to finally exchange vows doesn't come cheap!
Here's a quick breakdown of the expenses:
[table id=160 /]
The wedding is just the beginning of a couple's journey together. Most couple tend to put a lot of emphasis on their wedding spending but fail to plan for their life after that. Although you should plan for your wedding expenses in advance so you do not incur any debts, it is equally important to also plan for your future together as a married couple.
Sketching your financial future
Do you want to buy a new house, a family car, or have a child in the future? Discuss your goals and your financial capacity to achieve them. You don't need to have a fortune before getting married to do this.Simply make sure that you have the following sorted out.
Health insurance
From common sickness to pregnancy and delivery, having health insurance in place will surely give you peace of mind for yourself and your family. While health insurance policies provided by private companies during an employment will provide your family a good health insurance policy, its coverage however will only be as long as your employment. If you leave your employment in bad health, you may risk not being able to get a personal insurance later on. Thus, it's practical to also get own health insurance policy for your family.
You don't need to spend a lot to purchase a health insurance policy for your family. A number of health insurance products, for example, Medicard offer ₱700,000 worth of benefit for just ₱5,578 monthly premium.
Housing loan
One of the must-haves for a married couple is a place that they could call their home. Before getting married, consider the cost of moving in together, that includes buying a house! Your easiest route is housing loans, either by bank or through Pag-IBIG.
is quite easy to apply for, but the coverage isn't as comprehensive as a bank loan. Also, Pag-IBIG loans are not accepted by all developers, limiting your options when it comes to choosing a house. On the other hand, bank loans allows wider options, but the requirements for approval are a lot more stringent than Pag-IBIG.
[table id=159 /]
Emergency fund
Money issues are often a source of stress in any relationship, and when financial problems arise, couples should be mature enough to work together in finding a solution. It may be a sensitive topic, but it's something that a couple will have to deal with together. Having an emergency fund will make it easier for a married couple to get by a financial crisis without having to stress over finding the funds that they need.
The universally accepted rule is that you should have at the very least, about three months' worth of funds in your savings account to survive losing your job or a business bust. However, if you really want to take the proverbial marriage plunge, then you should have at least a year's worth, just to be ready for any eventuality.
How to prepare financially ?
You don't really need to have millions in your bank account in order to get by the early stages in your family life. However, as a couple, you must have achieved these financial milestones in order to say that you are really ready.
Financial maturity
As a couple, you don't need to be independently wealthy to be financially mature, you just need to be open and willing to talk to each other about money. Money issues are often a source of stress in any relationship, and when financial problems arise, couples should be mature enough to work together in finding a solution.
Make sure you don't sweep money issues under the rug. Be frank about your money values and aspirations. Try to reach a middle ground and don't try to force your significant other to adapt your money values or vice-versa. Both of you should be willing to lay down your cards on the table because this will help you avoid a whole lot of arguments and disagreements in the future.
Stable source of income
Where you are at in your career is one of the most important factors to consider before getting married. Having a regular income, either through employment or through a business will directly impact the stability of your cash flow.
As a couple, determine where your income streams will come from, whether it be from investments or other sources. It is important to map out how much you will need to make as a couple to sustain your individual lifestyles after the wedding.
Be advised that if you're planning on having at least two kids and you are aspiring to provide them with a "simple and comfortable life" in which you can afford to buy a car and a medium-sized house, send them to college, regularly spend leisure time with family and friends and take occasional trips around the country; then you would need a gross monthly income of at least ₱120,000, according to the National Economic and Development Authority (NEDA).
And, that's based on 2015 prices.
Clean financial slate
Always try to remember that being financially ready for marriage is more than just having the capacity to pay for the wedding. Your future together should count a lot more.
Bringing the baggage of debt into a marriage can be a major stressor on a couple. It would be best to zero out all your debts before marriage because you will have a harder time repaying all your liabilities as more and more expenses come in. If that is not possible, as in the case of a long term housing or car loan, then you and your partner should make sure that your debt is manageable and focus on establishing a debt reduction plan to deal with it as quickly as possible. Because when you start living together under the same roof as husband and wife, your debts will become a problem for you both.
Plan ahead
Assess your current financial status and create a financial plan. At a basic level, complete a net worth statement and review your recent expenses. After that, create a spending plan so you can start placing your money where you want it to go in advance. The plan should include savings, debt payments, and emergency savings.
How you handle money and your knowledge about money matter. Do you have a written financial plan? If your answer is no, then start creating one.
Once you have that in order and come to the realization that you have a good amount of funds available for investment, then it is time to acquire assets while you and your partner are both still single since your individual responsibilities are still minimal. Get that pre-selling property you like, invest in mutual funds or blue chip stocks, and start on that retirement fund. Set specific goals and action plans. Always remember that improving your financial security and stability before being joined in matrimony will help you both in the long run.
Image from tickera.com and vasandiegostudio.com
The post Financial Preparations To Consider Before Getting Married appeared first on iMoney.ph.
Ever since Uber ousted CEO Travis Kalanick, there's been one overriding question: just who would be daring enough to replace him and salvage the ridesharing outfit's tattered reputation? At last, an answer is emerging. Recodesources hear that former GE chairman and CEO Jeff Immelt (above) is the "frontrunner" out of the three candidates to lead Uber out of the darkness. Reportedly, the company's board of directors believes Immelt is the most capable of quickly fixing Uber's toxic culture, including sagging employee morale and abundant legal troubles.
There's no certainty that Immelt will take the top spot. The other two (as yet unnamed) candidates are still under consideration. If the report is accurate, however, Uber's board is expected to vote on a new CEO within two weeks.
We've asked Uber for comment. However, Immelt could be one of the better choices. A Recode insider notes that Immelt isn't someone you can "push around easily," so he could take a firm course of action rather than bow to pressure from insiders. He's also a well-known industry figure, and isn't shy about cutting initiatives that don't fit into his vision. When GE made a big push toward the 'industrial internet' under Immelt's tenure, it ditched or downplayed numerous businesses, including NBC and light blubs. That nothing-is-sacred mentality may be helpful at Uber, where some problems seem deeply entrenched.
Credit rating agency Fitch on Friday upgraded Greece's debt by a notch, citing what it called an improving outlook and amid expectations the country's debt sustainability will steadily improve.
A month after Athens returned to credit markets with a bond issue for the first time in three years, Fitch boosted the debt rating to B- from CCC, with a positive outlook, which indicates the possibility of further upgrades.
"Fitch believes that general government debt sustainability will steadily improve, underpinned by ongoing compliance with the terms of the European Stability Mechanism (ESM) programme," the agency said.
It also cited "reduced political risk, sustained GDP growth and additional fiscal measures legislated to take effect through 2020."
"The successful completion of the second review of Greece's ESM programme reduces risks that the economic recovery will be undermined by a hit to confidence or by the government building up arrears with the private sector."
The upgrade is good news for the crisis-beset country that came close to default.
Early last month, eurozone finance ministers approved the latest 8.5 billion euro ($9.9 billion) disbursement of the bailout, just in time for Athens to meet major debt repayments.
The ESM will keep feeding the country with low interest rate loans until the end of the bailout programme in July 2018.
The Greek economy nearly collapsed in 2010 under a mountain of debt and it had to be bailed out by its eurozone partners three times to prevent it bringing down the single currency bloc.
And it was locked in talks for years with the eurozone and the International Monetary Fund over the need for further debt relief. The EU has promised to provide debt relief but the specifics have not yet been agreed.
Fitch noted that the Eurogroup in June "confirmed its commitment to implementing a set of debt relief measures."
"This should support market confidence, which will help support post-programme market access," the agency said.
It added that "the political backdrop has become more stable and the risk of any future government reversing policy measures adopted under the ESM programme is limited."