© Provided by BSkyB Getty Lewis Hamilton has played down talk he could walk away from F1 early and revealed he does not necessarily aim to retire when on top.
Although Hamilton's Mercedes contract runs to the end of 2018, he was quoted as saying in an interview with the in-house magazine of F1's governing body, the FIA, "my destiny is in my own hands. I can decide to stop at the end of this year".
But asked about the comments during his press conference ahead of this weekend's Azerbaijan GP, Hamilton said: "I don't really remember discussing that. That's not something I'm thinking about right now."
Hamilton has previously said he can envisage himself signing another multi-year contract beyond his existing Mercedes deal, which would ensure he continues in F1 into his mid-late 30s.

With three world titles to his name, and places near the top of many of F1's statistical tables already assured, some have suggested Hamilton could eventually look to follow the lead of other drivers and sportspeople in the past and quit after a title success.
But asked if that could represent a plan for him one day, Hamilton told Sky Sports News HQ: "The dream for a lot of sportsmen and women is to go out on top.
"I guess you could then say a lot of people stopped before their time. I haven't decided whether I want to stop before my time, at the moment I don't plan to."
The 32-year-old, whose interests span far wider than the world of F1, admits he has a "bucket list" of things he would like to do outside of the sport - but says Mercedes allow him sufficient freedom to explore some of these at the right time.
"We always say the grass is always greener on the other side," he said.
"There are many parts of what the season stops you doing. There are so many great things that come along with it, that I'm really enjoying at the moment, but for sure there are things I look at and think 'jeez, if I had the whole year there is so much I could achieve and so many things I could tick off the bucket list'.
"But then I'll look back and think I've not been racing a Formula 1 car, so there is a time and a place for lots of different things. Prioritising is important and choosing the right times. I guess only God knows when the time is right for certain things.
"But right now I'm very, very fortunate being in this team. I've got an amazing team around me and a great boss who enables me to have part time for other interests which keep me going."
Hamilton also said he "can't imagine myself being anywhere else" but Mercedes as it stands, having joined the Brackley team in 2013 and raced with Mercedes power for all of his F1 career to date.
Asked whether he would consider joining Ferrari before hanging up his gloves, Hamilton replied: "Again, that's not something I'm thinking, at the moment all I think about is beating the Ferrari. But I've made it no secret I'm a huge fan of the team, a big fan of Ferrari and what they've achieved in the history of motorsport and the normal world in terms of the cars that they make.
"Who knows what the future holds, at the moment I can't imagine myself being anywhere else but here. I'm really enjoying the fight we have with Ferrari and admiring them for the strong competition."
© Provided by The Next Web If you've ever spent an extended period of time using a VR headset, you know that the whole 360-degree video thing can get old pretty fast. Don't get me wrong; I've had some amazing VR experiences that gave my neck a serious workout, but a significant portion of the content would have been just as fine only looking forward.
YouTube's new VR180 format embraces that idea, essentially cutting VR video in half so that only the front half of video is visible. That sacrifices some of the VR immersion, but I'm usually looking within 180 degrees in front of me anyway.
It basically amounts to the fact that I'm much more likely to turn my neck – which can only go so far – than my entire body when watching VR. And while I'm within that 180-degree space, I'm not losing any of the immersion because the picture covers my entire field of view anyway, and there's still 3D element for depth.
Perhaps more importantly, VR180 could make it a lot easier for creators to craft high quality VR experiences. I can already list several advantages off the top of my head:
The limited field of view means greater pixel density. If you're playing a video at 4K quality, for instance, all those pixels are concentrated in front of you, instead of wasted behind you.
For the same reason, VR180 videos should take up less space/bandwidth at a given level of sharpness.
You'll waste a lot less time dragging your mouse around when viewing video on a desktop
Again, depending on resolution choices, devices could require less processing power for smooth playback.
Manufacturers can pack bigger, high quality sensors without worrying about making the camera too small and trying to hide it's body from the video.
You don't have to worry as much or at all about parallax and stitching problems.
Google appears to be emphasizing 3D for VR180 cameras, which most affordable 360-degree cameras lack. I'd argue 3D is more important for immersion than a 360-degree field of view.
VR180 cameras could be cheaper for the same quality level.
DIY camera rigs would be easier and cheaper to make.
Perhaps most importantly, content creators can stop worrying about how they're going to hide film equipment (or remove it in post). They can largely just film like they would with any other camera.
Google says you'll be able to edit VR180 video with apps like Adobe Premiere, and that it's working with manufacturers to create all-new cameras for VR180. So far YI, Lenovo, and LG have signed up to produce cameras coming this winter, and Google says it's creating a VR180 certification program for others to join in.
YouTube isn't specifying if 3D is a requirement for VR180, but there definitely seems to be a greater emphasis on it.
Honestly, I wouldn't be surprised if 180 videos ended up becoming more popular than their 360-degree brethren in the long run. That's not to say I think 360-degree content should be abandoned altogether. There are less advantages to 180-degree video for games and computer-generated imagery, after all. But for much VR content, 180 degrees is enough.
When people complain that VR is too inconvenient and inaccessible to become mainstream, they're normally referring to the bulk and cost of VR headsets. But it's arguably more important that VR be accessible for the people actually creating the content – VR180 strikes me as an excellent step in that direction.
If you want to give it a look, YouTube has a playlist of VR180 videos available here. Or just watch below: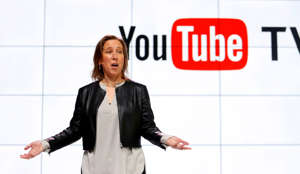 © AP Photo FILE - In this Tuesday, Feb. 28, 2017, file photo, YouTube CEO Susan Wojcicki speaks during the introduction of YouTube TV at YouTube Space LA in Los Angeles. Google's online package of about 40 television channels debuts on Wednesday, April 5, 2017, in the tech industry's latest bid to get cable-shunning millennials to pay for television. (AP Photo/Reed Saxon, File) This year at VidCon, YouTube shared some new metrics that really drive home how much its dominating mobile video usage and how quickly its service is gaining viewers on TVs.

The highlight was the fact that there are now 1.5 billion logged-in users visiting the site every month. The distinction is important as there are undoubtedly still quite a few folks hopping on YouTube that aren't necessarily using Google Accounts to do so.
The site announced it hit 1 billion monthly active users in 2013, though that number assumedly related to all visitors, logged-in and not.
Logged-in users spend an average of over one hour per day watching YouTube just on mobile devices, a pretty daunting number that showcases just how pervasive video has gotten on the mobile web.
"When we compare that [metric] to TV, people -- in some countries like the US -- watch up to four hours per day so we think there's lots of room to get people to watch even more YouTube," CEO Susan Wojcicki said onstage.
On that note, the company said that the TV screen was their fastest growing medium of consumption, noting that the category was growing 90% year-over-year, something that the company's new YouTube TV service is undoubtedly going to add to. The company didn't have any new details to share on desktop video viewing habits.
While sites like Facebook begin to throw more resources behind video efforts, it's clear that regardless of the arbitrary "view" statistics thrown around, the sheer amount of time spent engaging with a service is a constant metric and one that YouTube has a lot to say about.
The first phone to successfully integrate a fingerprint sensor in the screen may not be an iPhone or Samsung Galaxy at all. It could be a phone from Chinese brand Vivo, which isn't well known outside China.
A Vivo Twitter post hints that the company will "unlock" "a new solution" at a trade show next week. Pair that with the image of what looks like a fingerprint going through a panel and you have a pretty strong suggestion that Vivo's phone could kick off the next phone trend.
The tweet echoes last week's short (and very unofficial) YouTube video of a Vivo smartphone with a fingerprint sensor built into its display.
What's the big deal about embedded fingerprint sensors? As phone makers aim for bigger displays with smaller bezels (like the Galaxy S8 and LG G6) phones that have a home button or scanner beneath the screen could ditch it to save more space (think iPhone 7 in particular). Companies that can get ahead of the curve to use this software will have more options for reconfiguring the placement of the fingerprint sensor on their phones.
It was rumored that the Galaxy S8 would do this, but that wasn't the case. Now rumors say the iPhone 8 could come with the feature, but it's been reported that Apple may be having difficulty getting the tech to work in time for the iPhone launch. If Vivo's able to snag an industry first, Apple, Samsung -- two typical market leaders -- will be the ones to follow.
We'll have to stay tuned to Vivo's event in Shanghai to see if this rumored feature actually becomes a reality.
Apple did not respond to a request for comment on this story.
© REUTERS/Brian Snyder Facebook founder Mark Zuckerberg speaks during the Alumni Exercises following the 366th Commencement Exercises at Harvard University in Cambridge Facebook Inc Chief Executive Mark Zuckerberg revised the world's largest online social network's mission statement on Thursday to emphasize support for hobby clubs, civil society organizations and other community groups.

The move comes as Facebook faces pressure from smaller rivals such as Nextdoor and Meetup, whose online networks bring together neighbors and people in the same area with shared interests.
Zuckerberg said on his Facebook page that his company's new mission is to "give people the power to build community and bring the world closer together."
The previous mission was "to give people the power to share and make the world more open and connected." Facebook's pursuit of that mission has been criticized in the past 12 months after the network became one of the main distribution points for so-called fake news, which many think influenced the 2016 U.S. presidential election.
Zuckerberg said in February he wanted to boost the number of Facebook users who are members of what they called "very meaningful" groups. Only about 5 percent were members of such groups, he said then.
The head of Facebook, with 1.9 billion users and $27.6 billion in revenue last year, was in Chicago on Thursday to meet people who run group pages on Facebook.
"If what you're trying to do is run a group that has thousands of people, you need tools to help manage that," he told CNN in an interview. Facebook wants to build those tools, he said.
Alphabet Inc's Google also hosts community groups, as do Nextdoor and Meetup. Nextdoor, a site for neighbors to meet one another and share news and advice, said on Monday it was expanding into Germany after rapid growth elsewhere.
Zuckerberg told CNN that supporting organizations built around neighbors, churches, pets and the like has a larger purpose.
"Once people are coming together in these smaller groups, that actually grows and it ends up with much bigger changes in the world," he said.
(Reporting by David Ingram; Editing by Bill Rigby)
By April Benshosan
Consider this your dream diet.
Can a lack of catching ZZZ's really undermine your weight loss efforts? The short answer: yes. The National Sleep Foundation recommends seven to nine hours of sleep a night, and ample research suggests that if you skimp on that amount, you may become victim to an expanding waistline.
A study by the European Society of Endocrinology revealed that losing sleep messes up your hormonal balance, giving hormones that promote satiety, such as GLP-1, the red light — while hunger-promoting hormones like ghrelin get the green. In turn, tired folks are more likely to choose caloric bombs for lunch, experience more food-derived pleasure, and remain more sedentary than their well-rested counterparts. What's more, a study published in the European Journal of Clinical Nutrition found that sleep-deprived people gobbled up about 385 more calories per day. (To put this into perspective, eating an extra 385 calories can result in gaining over a pound in just 10 days!)
"The main cause of obesity is an imbalance between calorie intake and expenditure and this study adds to accumulating evidence that sleep deprivation could contribute to this imbalance. So there may be some truth in the saying 'early to bed, early to rise, makes a man healthy and wise,'" Dr. Gerda Pot, senior author from the Diabetes&Nutritional Sciences Division at King's College London and Vrije Universiteit Amsterdam, clarified.
In simple terms, it's likely that you're too tired to choose the salad over the salami sub. But if your hectic schedule doesn't allow you to hit the hay for as long as you'd like (we feel for you, soccer moms and CEOs!), there is a simple solution.
A 2017 South Korean study published in the journal Sleep discovered that sleeping in on the weekends is linked to a lower body weight. "Short sleep, usually causing sleep debt, is common and inevitable in many cases, and is a risk factor for obesity, hypertension, coronary heart disease, as well as mortality," the study's lead author, Dr. Chang-Ho Yun of the Seoul National University Budang Hospital, told Reuters Health. You know what else can help you quit counting sheep? These 8 Expert Tricks To Fall Asleep Fast.
MORE FROM EAT THIS, NOT THAT!
Lose Up to 14 Pounds in One Week Eating Breakfast!
The new book Zero Belly Breakfasts will have you looking and feeling great in no time flat, thanks to hundreds of delicious and nutritious breakfast secrets—and more than 100 mouthwatering recipes you can prepare in minutes! Buy Zero Belly Breakfasts today!
Glitches in electronic banking are a consequence of the growing number of transactions and tend to hound the industry, an official of Asia United Bank.
"The glitches are no secret, they happen every day. It just so happened that this one was big, but I think that's normal," President Abraham Co told GMA News Online on the sidelines of the bank's annual stockholders' meeting in Pasig City on Thursday. He was referring to what happened to Bank of the Philippine Islands.
In the case of BPI, transactions involving some 1.5 million clients were double posted due to human error, specifically by a programmer who was in a rush to post transactions, BPI claimed.
"Even with foreign banks, I would bet those things are also happening ... "Those issues are accident, it can happen," Co noted.
Co noted that glitches are bound to happen as a result of insufficient "buffer time" for computer systems to process daily banking transactions.
"You have 24 hours a day. Ten hours or eight hours a day, you are doing the banking system or transactions and, probably, another four hours will be spent trying to clear your transactions to make it balanced. And then, after that, you will send the data to the computer room for you to have a starting point the next day," Co separately told reporters after the AUB stockholders' meeting.
"If the computer runs for five hours, you wait and then, hopefully, by five o' clock in the morning, hopefully, the computer was okay, you are now open for banking at 8:30 a.m., Co noted.
"So, you need another five hours to run. Now, where do you get the five hours? God only gave us 24 hours," he added.
Expand and upgrade
The AUB official said the number of transactions has expanded so much that the "buffer time" for banks to process them are becoming limited.
"'Yung buffer time nauubos. Wala ka ng buffer for a second run ... And it will happen. Dapat may buffer for the second round," Co said.
To avoid glitches, banks must upgrade and expand the hardware and software required to process banking transactions, he said.
"'Pag pinalaki mo yung processor, mas mabilis 'yun. Kaya lang nakakatakot din 'yun, kasi once you changed something ang daming glitches. The transition to something different is something problematic," he emphasized.
While not within the purview of a system glitch, BDO Unibank Inc. has reported some of its automated teller machines (ATMs) were potentially compromised a week after data processing errors plagued BPI's electronic banking system.
The problems that hounded BDO and BPI compelled the Senate Committee on Banks, Financial Institutions and Currencies to conduct hearing on the matter Wednesday –while the Congress was on session break.
After the committee hearing, another bank – Security Bank Corp. – issued a separate statement saying its electronic banking system was delayed in posting transactions that prompted SBC to extend its banking hours to accommodate clients who were affected by the lag. — VDS, GMA News
The Manila Electric Company will raise its power distribution charges staring July, a television report said Friday.
GMA News' "Unang Balita" sait that Meralco will impose a 2-centavo hike per kilowatt hour in the monthly electric bill for 29 months starting next month.
Quoting company sources, the report said that the hike in the electric bill will help Meralco recoup the P1.7 billion it spent for additional power to fill up shortages during in the last dry season.
But the power distributor assured consumers that the hike is insignificant, especially that Meralco will continue paying out until August this year the P6.9 billion in "over-recoveries" from 2014 to 2016. —LBG, GMA News
The governments of the Philippines and China officially signed an agreement for the construction of two bridges spanning the Pasig River, which will be funded by a Chinese-pledge grant made during President Rodrigo Duterte's state visit in Beijing last year.
In a statement on Thursday, the Department of Public Works and Highways (DPWH) said that Secretary Mark Villar and Embassy of China in the Philippines Economic and Commercial Counselor Jin Yuan signed the minutes of discussion (MOD) for the full grant on June 21 in Manila.
The two bridges covered by the grant are the Binondo-Intramuros Bridge in Manila and the Estrella-Pantaleon Bridge connecting the cities of Mandaluyong and Makati.
The grant will cover the design and construction of the bridges while DPWH will be responsible for the acquisition of its road right-of-way, according to Villar.
The total amount of grant is not yet finalized as it is still subject to the finality of engineering design, the DPWH said.
The Department of Finance earlier reported that China will grant the Philippines $75 million or around P3.6-billion for the construction of the two bridges across the Pasig River.
Finance Secretary Carlos Dominguez III and Budget Secretary Benjamin Diokno earlier said the construction of the two bridges might start in the third quarter.
"Based on the initial project design, Binondo-Intramuros Bridge will be constructed into a four-lane, steel bowstring arch bridge with inclined arches that will connect Intramuros side at Solana Street and Riverside Drive and Binondo side at San Fernando Street with a viaduct. It will have a total length of 807 meters, composed of 90-meter main bridge, 488-meter Binondo approach, and 193-meter upramp and 166-meter downramp Intramuros Approaches," Villar said.
"The Estrella-Pantelon Bridge will also have four lanes, but will be a 560-meter Twin Spine steel box girder bridge with concrete deck slab. It will utilize the existing approaches at Makati City and Mandaluyong City sides, with modification on abutment and pier to accommodate new bridge superstructure," he added.
The construction of Binondo-Intramuros and Estrella-Pantelon Bridges will be implemented by the DPWH Unified Project Management Office-Roads Management Cluster I, the Department said. — BM, GMA News
As broadly expected, the Monetary Board held fire on policy tweaks on Thursday, marking the 22nd straight meeting when the central bank kept interest rates steady.The central bank left policy settings at 3.5% for the overnight lending rate, three percent for the overnight reverse repurchase rate and 2.5% for the overnight deposit rate during its second review for the year. Reserve requirement ratios imposed on banks were also retained.In a press briefing after the meeting, Mr. Tetangco said the BSP stood pat on monetary policy as inflation is expected to remain "manageable" and will even trend lower in the coming months, although some upside risks remain.Upbeat economic activity also meant that no additional monetary stimulus is needed for now."The Monetary Board emphasized that while global economic conditions remain challenging, prospects for domestic economic activity continue to be firm owing to buoyant consumer and business sentiment, ample liquidity, and sustained credit growth," Mr. Tetangco told reporters on Thursday afternoon.The outgoing central bank chief also said monetary authorities deemed it prudent to keep rates on hold at a time of rising interest rates in the United States. "The Monetary Board has considered the potential impact on global financial market conditions of the ongoing monetary policy adjustment in the US, noting that maintaining monetary policy settings at this time would allow the BSP to continue to assess evolving economic developments and calibrate its policy tools as appropriate."The Federal Reserve again raised benchmark rates by 25 basis points last week, the second it did so this year, and hinted of another increase in the coming months amid an optimistic view of the US economy.The outgoing BSP chief has said that the central bank will not have to move in sync with the Fed, saying that domestic conditions remain the bigger concern for the monetary authority.The BSP has kept policy rates steady since a hike in September 2014, save for procedural cuts in June last year as the central bank migrated to an interest rate corridor scheme that makes use of weekly term deposit auctions to better siphon excess liquidity and influence market rates.Mr. Tetangco formally ends his second and final term as BSP chief on July 2 after a 12-year run as governor.He bows out with inflation kept at manageable levels and with economic growth broadly assured of clocking above six percent this year.INFLATION FORECAST CUTThe BSP yesterday also trimmed its inflation forecast to 3.1% this year from the 3.4% estimate adopted last month, matching the current five-month average pace of price increases."The expected monthly inflation will be lower compared to what we projected in the May 11 meeting," BSP Deputy Governor Diwa C. Guinigundo said, departing from the BSP's previous expectations that the price increases will peak some time in the third quarter.Mr. Guinigundo said terror attacks and the ongoing firefight in Marawi City would have a "benign" impact on inflation, as well as the currently challenged exchange rate. The peso ended P50.345 to the greenback on Thursday, about 5.5 centavos weaker than the previous day's closing rate and 1.2% weaker than 2016's P40.72-per-dollar finish.The BSP also expects inflation to clock three percent annually in 2018 and 2019, still within the central bank's 2-4% target band.Several analysts expect a rate hike from the BSP next semester, saying current rates have actually turned negative with inflation trending higher since September last year.Others, however, see the BSP keeping policy steady for the rest of 2017 as economic growth remains robust.Under Mr. Tetangco's watch, the economy sustained uninterrupted growth, while price increases have remained within expectations.Market watchers have characterized his stint as one of transparency and predictability, clearly communicating the BSP's policy trajectory.His successor, Deputy Governor Nestor A. Espenilla, Jr., has assured that he will continue Mr. Tetangco's reform agenda, signalling broad policy continuity.Mr. Espenilla assumes the central bank's helm on July 3 for a six-year term, after President Rodrigo R. Duterte announced his appointment in May."The BSP, under the able leadership of outgoing Gov. Tetangco, has been consistent in implementing its monetary policies especially making sure that inflation is within the set bounds. During his term, he was able to inspire confidence among consumers and investors with the BSP's robust and stable monetary policies," said Mitzie Irene P. Conchada, economics professor at the De La Salle University."I am confident that the next governor will do the same and will provide the leadership that BSP needs to continue its policies."Mr. Espenilla will preside over the BSP's fifth policy review for the year on Aug. 10.
The Armed Forces of the Philippines, the Department of Information and Communications Technology, and Globe Telecom on Thursday announced that Marawi City residents will have 15 days of free texting to all networks and free calls to Globe and TM in Marawi City.
Globe and TM prepaid customers in Marawi City will receive a text message from the telecommunication company within the next few days to inform them about the promo.
Globe president and chief executive officer Ernest Cu said the free call and text services will be available to prepaid customers. The promo does not include mobile data.
He said the possible extension of the free call and text services will be evaluated depending on the current situation.
DICT Secretary Rodolfo Salalima said the donation from Globe will help residents and government troops in Marawi.
"The donation is timely kasi the people of Marawi have suffered so much. Even our soldiers suffered too much sacrificing their lives for democracy. There is also a need for the civilian population to connect with the loved ones. This is to help the people of Marawi who are not only hurt; some of them have died," he said.
The press conference is ongoing, as of posting time. — BM, GMA News
The Philippine peso weakened further against the dollar and closed at a fresh three-month low on Thursday as US home sales buoyed the greenback.
The local currency shed 5.5 centavos to close at P50.345:$1 from 50.290 on Wednesday. It was the weakest since the peso closed at P50.360 on March 14.
"The peso further depreciated today, as better-than-expected US existing home sales data supported the upbeat views of many Fed officials," Land Bank of the Philippines market economist Guian Angelo Dumalagan told GMA News Online.
Existing homes sales in the US increased by 1.1 percent to an annual rate of 5.62 million units in May from 5.56 million in April, the National Association of Realtors said in an industry report.
Dumalagan noted that some investors took profits from the dollar's gain as the peso reached an intra-day low of P50.370:$1, which capped the local currency's weakness at the close of trading. — VDS, GMA News